Publications
Other relevant links
Publications
Democracy and Change - The 1920 Local Elections in Ireland
This year marks the centenary of the local elections of 1920 which were pivotal in the history of local government in Ireland.
To mark these events, and because of their significance for the struggle for independence, the Dept. of Housing, Local Government & Heritage recently commissioned a publication from the Local Government Archivists and Records Managers to commemorate the 1920 local elections. Edited by archivists Niamh Brennan (Donegal) and Grainne Doran (Wexford) with the title 'Democracy and Change: the 1920 Local Elections in Ireland' . This publication is available to download free of charge, in Irish and in English.


FOR THE RECORD, THE ARCHIVES OF GALWAY'S RURAL DISTRICT COUNCILS
For the Record is an easy to read, eye catching A4 sized publication, produced by Galway County Council Archives, which aims to promote the existence of an important body of primary source material.
The guide provides background information and an inventory of the records found in the Rural District Council archive collections, together with an introductory essay which examines the achievements and attitudes of Galway's Councils as a whole. It includes detailed descriptive lists, or finding aids, for the Ballinasloe No. 1 and No. 2 Councils (the latter was under the jurisdiction of Roscommon County Council), Clifden, Galway, Gort, Loughrea, Mountbellew, Portumna and Tuam.
Copies of the publication are available by contacting archivist@galwaycoco.ie or from your local library while stocks last.
COLLECTING AND PRESERVING FOLKLORE AND ORAL HISTORY: BASIC TECHNIQUES, GALWAY COUNTY COUNCIL, 2006
For anyone interested in the collection of folklore or oral history a user friendly bilingual publication from Galway County Council will be a useful support and resource. It should help collectors consider the various steps required, assist them to focus their minds on the need for preparation, and guide them through the recording process.
The publication is free and may be obtained, while stocks last, by contacting the Heritage Officer at Galway County Council, Áras an Chontae, Prospect Hill, Galway, 091 509198, or available to read at a local library in county Galway.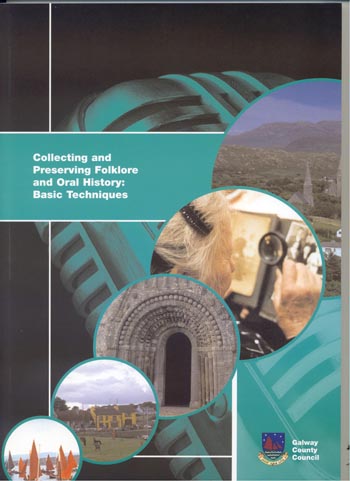 LOCAL AUTHORITY ARCHIVES IN IRELAND, LOCAL AUTHORITY ARCHIVISTS' GROUP, 2003 IRELAND
This is an introductory guide to the records of local authorities. It is intended to help raise awareness of the existence and potential value of the records held in local authority archive services, and to educate and inform the public of the body of information and evidence that is available to them locally.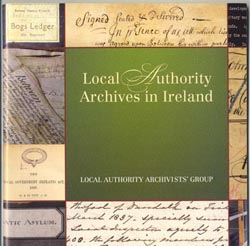 The guide may be obtained free of charge from your nearest local authority archive services, while stocks last, or available to read at a local library in county Galway.