Eating Well
Other relevant links
Eating Well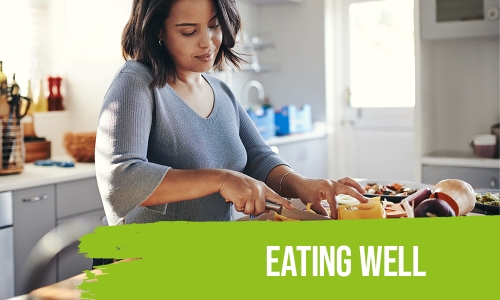 "Eat crappy – feel crappy. Eat healthy – feel healthy. Nuff said."
Our Top Tips!
Eat Healthy: good nutrition has a positive impact on your mood, while boosting your energy and immunity.
Avoid stimulants and sedatives: caffeine, nicotine and alcohol can make anxiety symptoms worse.
What we've done to date:
We trained 22 individuals to deliver Healthy Food Made Easy (HFME) across Galway County and City, unfortunately, due to the COVID-19 lockdown we were unable to proceed with delivering the courses at a community venue near you. These are not traditional courses where cooking is taught or demonstrated – instead 8-10 participants cook together and learn about healthy eating guidelines in a relaxed, fun and participative way using everyday ingredients. To show you how 'easy' our Healthy Food Made Easy courses will be, here are a few recipes to challenge you and whet your appetite! Recipes
Did you know that 60% of leftovers are avoidable food waste which end up in landfill, not alone wasting money for you but creating harmful environmental impacts though the release of methane, a greenhouse gas 25 times more potent that carbon dioxide? Therefore, we introduced you to "Loving Leftovers", an award-winning initiative by Belmont and Milltown National Schools, in partnership with Milltown Heritage Group. It is a collection of recipes written by children from both schools including dishes using popular food leftovers which won the National Heritage Award in the National Tidy Towns Competition 2018. Download the full collection of recipes, and use up your leftovers, at https://milltown.galwaycommunityheritage.org/content/topics/milltowns-gastronomical-heritage/loving-leftovers-2
How we plan to build on this:
Under Healthy Ireland, we will provide funding and support for Community Kitchens throughout the County, in community-owned venues where people can come together for lunch clubs, Healthy Food Made Easy courses, nutrition talks, or simply a cup of tea after Mass.
We will deliver our Healthy Food Made Easy courses in community venues while ensuring compliance with all public health requirements, in addition to revising the course to enable its delivery online to reach a wider audience.
We will promote a range of healthy eating options, information and advice, in partnership with the HSE and other partner organisations.
Other useful links: