Keeping Active
Other relevant links
Keeping Active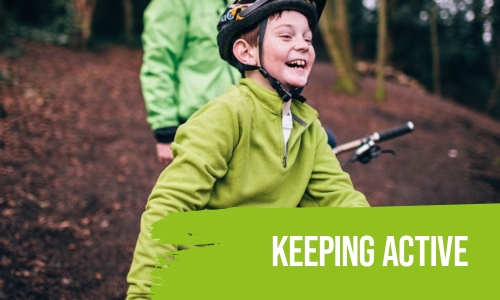 "Exercise not only changes your body; it changes your mind, your attitude, and your mood."
Our Top Tips!
Exercise Regularly: physical activity helps us to feel calm, centred, energised and empowered, so find a physical activity that you enjoy and suits your level of fitness and mobility.
Access Nature when you can: nature can have a healing effect on your mind, body and soul, so get as much sunlight, fresh air and outdoor routines going as you can.
What we've done to date:
We distributed 3,000 Leaflets to older people who were cocooning so they could exercise without leaving the comfort and safety of their home. The Leaflets comprise 8 stretches designed by HSE Physio Services specifically for older people to keep their primary joints and muscles flexible and strong. There is a handy 4-week schedule for you to tick off twice daily as you do the exercises, by which time you will hopefully have made this healthy habit a part of your daily routine! Please print it off and share it with anyone you feel would benefit from it. https://www.galwaycountyppn.ie/wp-content/uploads/2020/10/Healthy-Galway-Simple-Exercises-Booklet_web-version.pdf
For older people who have online access, Galway Sports Partnership shared live links and YouTube links to Siel Bleu Exercise Challenges and Age & Opportunity's Movement Minutes Sessions which are physical activity programmes targeted at older adults. Check these out on Galway Sports Partnership Facebook page or challenge yourself to complete the full programme of sessions to date!
www.facebook.com/GalwaySportsPartnership/
https://www.youtube.com/playlist?list=PLfCQ6OkV7hAiHQ2RIm1iM1TBxNYeUXfqA
http://www.sielbleu.ie/home/at-home-guides/
Galway Sports Partnership promoted a wide range of free online courses such as Women on the Move, Couch to 5k, Step Challenge or Buggy Buddies – if you're not into sport, why not try out one of their dance classes! Check out the range of free courses on offer at Galway Sports Partnership website on www.galwayactive.ie
Age & Opportunity kindly provided Galway Sports Partnership with exercise DVD's for older adults including 6 sessions with a focus on aerobic activity, muscle-strengthening and balance, and these were promoted and distributed to older adults who did not have internet access.
We distributed over 1,000 stress balls to older adults who were cocooning through their Community Group Volunteers. Stress Balls are small balls or objects filled with malleable gel or clay that you can hold in the palm of your hand. Squeezing a stress ball activates the muscles in your hand and wrist and helps to improve your grip strength. It's especially important to keep flexibility in your hands and fingers as they are areas that can be prone to arthritis. Oh, and as it says on the tin, it's also good for coping with stress!
We distributed over 1,000 pedometers to older adults who were cocooning to encourage them to keep a diary of the number of steps they take each day, and to build it up over time. Even if you are not venturing outdoors, you can still monitor the number of steps you take in carrying out your household chores, gardening, cooking, etc – they all count!
To celebrate National Play Day, we distributed Play Packs to vulnerable & disadvantaged families, to encourage children and young people to remain active in mind and body during the summer months. These Packs included a selection of reusable items such as skipping ropes, balls, sidewalk chalk, cones, markers, colouring books, etc.
Galway Sports Partnership delivered a Family Home Exercise Challenge which included 3 weeks of daily physical activity programmes for the whole family and this is available to download from their Facebook page if you want to challenge your whole family to stay active!
How we plan to build on this:
Many people, young and old, have not been getting regular exercise since this pandemic began due to the initial lockdown and then due to the fear and anxiety of going out and about. Unfortunately, the HSE have found that individuals are presenting with reduced muscle mass, so we need to build on our range of programmes and ensure you have access to initiatives that will enable you to Stay Active while staying safe.
We will partner with the HSE to strengthen the messaging about staying active and will ensure wider distribution of the HSE Physio Services Leaflet of Simple Stretches for Older Adults.
Galway Sports Partnership will encourage individuals to stay active through a range of free classes and initiatives such as Walking Clubs, with clear guidelines on keeping safe while staying active.
We will provide funding to set up Go for Life Games in your local community centre – these are packs with several games such as bowling, skittles, frisbee, etc., which are all about non-competitive participation and fun!
We will provide funding to support a network of Community Gardens throughout the County, which will be shared spaces for Groups and Communities to stay active outdoors with the added benefit of improved wellbeing through social contact and growing nutritious food!
Other useful links:
| | | |
| --- | --- | --- |
| Sport Ireland | Sport Irelands role is to develop all Sport and Physical Activity in Ireland. | |
| Galway Sports Partnership | Galway Sports Partnerships aims to increase Physical Activity levels in Galway. | |
| Get Ireland Walking | Get Ireland Walking has a number of resources on how we can increase our daily exercise through walking. | |
| Get Ireland Active | A range of resources for all ages on how to be active. | |