Keeping in Contact
Other relevant links
Keeping in Contact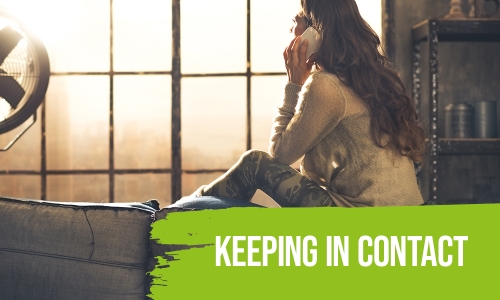 "Connecting with others gives us a sense of inclusion, connection, interaction, safety and community."
Our Top Tips!
Keep in Touch: reach out to those you feel connected to who have a positive impact on your wellbeing.
Talk to someone you trust: a chat with a close colleague, friend or family member can help you feel supported and better able to manage any challenge.
Keep your sense of humour: laughing with others strengthens relationships, helps keep things in perspective, and it feels good!
What we've done to date:
Our Community Call Helpline (1800 92 88 94) has dealt with over 800 calls to date, referring them to practical supports in their area or to other services and supports.
Our Library Staff reached out to our older housing clients and made over 1,400 telephone calls to keep in touch with them and make sure they were linked in with any necessary supports.
For many, the GAA is a huge social outlet and its absence was felt at Club and County level. For the duration of the lockdown, some GAA Legends (Cyril Farrell, Ray Silke, John O'Mahony) were "on-call" and made themselves available to talk to GAA fans who were cocooning through requests submitted to Galway City Council through a joint initiative across the City and County.
As it was difficult for older people to access information and keep in touch if they did not have online access, we ran a competition for an Acorn Age-Friendly Smart Tablet which has been sent to its winner with telephone support and internet data for the next year to get them started.
We promoted Age Actions 'Getting Started Kit' which are written guides on setting up e-mail, using zoom, making video calls, including a video tutorial by Mary Kennedy. You can find all the Guides and the video on www.ageaction.ie
Through our COVID-19 Emergency Fund, we provided financial support for projects such as befriending initiatives, technology supports to enable Care Organisations continue to counsel and keep in contact with their clients, and Care Packs and Food Vouchers for vulnerable and older people.
Through our COVID-19 Emergency Fund and Community Enhancement Programme, we prioritised re-opening and improvement works at Community Centres, to enable them to adapt their premises, inside and out, to re-activate community activities which promote social contact.
Galway County Public Participation Network organised an information webinar for Community & Voluntary Groups which provided information on the technical & procedural aspects of re-opening Community Venues in line with public health requirements, and this was supplemented by information on available funding sources.
Galway County Public Participation launched Wednesday Webinar series aimed at assisting Community & Voluntary Groups to continue their work online.
Galway County Public Participation Network circulated a monthly newsletter outlining all national & local funding schemes, with information updates and advice on public health requirements to ensure that all their Member Groups were kept up-to-date at all times.
How we plan to build on this:
Our Library Staff will continue to provide outreach telephone support to anyone who feels they would benefit from the social contact – individuals can contact our Community Call Helpline (Freephone 1800 92 88 94) to link in with this service.
Our Library Staff also love to talk about all that is available through our Libraries, from books, online newspapers and magazines, courses and clubs, quizzes or classes, so if you would like to talk to them to get a delivery of library items to your home, contact them through our Community Call Helpline.
We will establish our Older Persons Forum as a specific group within our Public Participation Network and develop facilities such as a Calendar of Events and Message Board, to enable social contacts and linkages to be established across all Older Persons Groups and Individuals in the County.
We will establish a Intercultural Forum within our Public Participation Network and collaborate with them to identify any language barriers to accessing information and staying safe and connected during the pandemic.
We have established an online map and directory of Community Call supports and building on this, we will create an online map-based Directory of Services for older people to easily see what services are available to them in their local area.
We will endeavour to put in place a network of befriending initiatives across the County, in co-operation with our partner organisations in the Community Call.
We understand that online access is a barrier to staying connected and will work to promote use of community venues with free wi-fi and continue to provide resources to enable older adults to gain IT skills and stay connected.
Galway County Public Participation Network will continue to keep all of the Community & Voluntary Groups in the County updated and connected by creating a PPN Events Calendar of their website.
We will continue to reach out to our communities asking them to look after their neighbours and:
Take the time to chat – we can get through this together
Ask your neighbour how they're doing
Let your neighbour have your contact details
Keep in regular contact by telephone or video call
Other useful links:
| | |
| --- | --- |
| Resources for Older Adults on how to stay connected | |
| Link to Galway County PPN sign-up for Older Persons Forum and Migrant Forum | |