Managing Your Mood
Other relevant links
Managing Your Mood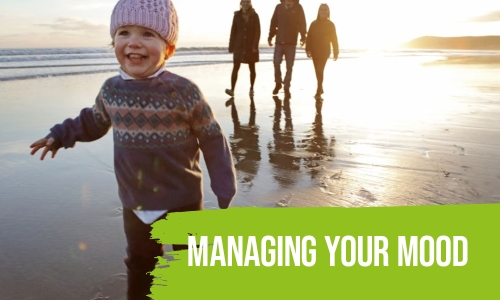 "There is no health without mental health."
Our Top Tips!
Limit your news feed: we are bombarded with information about the virus constantly through TV, radio and social media which can be overwhelming. Schedule a time each day to update yourself through trusted news sources and otherwise step away from checking.
Manage challenging emotions: it's very important to acknowledge and realise that being stressed about COVID-19 is normal. Acknowledge what you are feeling and notice any sensations in your body, slow down, pause, take a breath and ground yourself.
Remember to breathe; place one hand on your stomach and one hand on your chest and as you breathe normally in and out through your nose, count 10 full breaths.
Practice mindfulness; focusing on the here and now can help us to notice and value that moment. Take notice of the change in seasons, the birds, trees, flowers – set up a bird feeder in your garden and enjoy watching the birds come and go.
Practice gratitude; keep a journal and write down 3 good things about each day, say thank you to a loved one or colleague if they've been kind, or share a positive story with someone.
Reach out for support: there should be no stigma around mental health as it is estimated that 1 in 4 of us will experience some mental health problems in our lifetime. If you feel persistently sad, have trouble sleeping or experience other symptoms of anxiety or depression, reach out to a trusted friend, your GP, or one of the many support services.
What we've done to date:
Youth Work Ireland put in place a team of amazing and fully accredited counsellors to engage with anyone aged 12-21 years who needed additional mental health supports during the lockdown.
The transition from primary school to secondary school and undertaking Leaving Certificate examinations is always a stressful time, but this year in particular it was shrouded in uncertainty and anxiety. Youth Work Galway operated Zoom Calls to link in with young people, parents and schools during this time of change.
People with long-term health conditions need to take extra care to protect themselves from COVID-19 as well as managing their existing condition. We circulated information to assist the individuals in this regard;

The Disability Federation of Ireland interactive map of all care services in County Galway - https://www.disability-federation.ie/membership/county/galway/
Heartlink West, an initiative of Croí, the charity supporting individuals with heart disease or stroke, which includes free support from their specialist team of nurses, dieticians, physios and exercise specialists. This service can be accessed FREE by telephoning 091 544 310 or e-mailing healthteam@croi.ie
How we plan to build on this:
Galway County Comhairle na nÓg are conducting a survey monkey on the mental health issues arising for young people throughout the pandemic and will be publishing a Mental Health Tips booklet and online resources to circulate to all secondary school pupils throughout the County.
We will increase the range of advice and information to assist individuals to mind their mental health during this time and link in with a range of mental health supports and services.
We will run a mental health campaign aimed at normalising speaking about mental health and support this through online courses such as SHINE and Stress Control Workshops.
Other useful links to help you reach out if you need help:
Samaritans

Pieta House

Freephone 116 123 every day 24 hours a day

Freephone 1800 247 247 every day 24 hours a day

ALONE – national helpline for older people who provide daily calls or advice or referral for anyone experiencing mental or physical distress

Tel: 0818 222 024 (Mon-Fri 8am to 8pm)

AWARE – providing information and support for people who experience depression

Freephone support line 1800 80 48 48 (ever day 10am – 10pm)
www.aware.ie

GROW in Ireland – a confidential self-help support group for people experiencing a range of mental health issues

Info Line: 1890 474 474

Senior Helpline – a listening service for older people, run by older people

Freephone 1850 804 591 (every day 10am to 10pm)

Mental Health Ireland – promotion of positive mental health and wellbeing for individuals and communities

HSE advice on how to mind your mental health during the COVID-19 pandemic

HSE advice on access to advice for people with disabilities and their families

https://www2.hse.ie/wellbeing/supporting-someone-with-special-needs-during-covid19.html

HSE advice for minding your long-term health condition during COVID-19:

https://www.hse.ie/eng/health/hl/selfmanagement/resources-for-people-living-with-a-long-term-health-condition/

Contact details for all disability services registered with Disability Federation of Ireland in Co. Galway:

https://www.disability-federation.ie/membership/county/galway/

Helplink – mental health services for the west of Ireland

Services for Children & Young People:

Childline:

Jigsaw Galway:

Spunout:

Tel: 1800 666 666

091 549 252 or www.jigsaw.ie