Switching Off
Other relevant links
Switching Off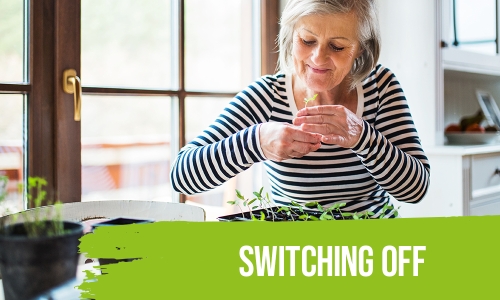 "A child reminds us that playtime is an essential part of our daily routine."
Our Top Tips!
Have or create a good daily routine: during difficult times, its best to keep some structure in your day and it will help you feel in control and keep your body and mind active and occupied throughout the day.
Have or create boundaries when working from home: try to use a separate space, stick to regular work & break times, give your eyes a break each hour, engage in an activity after work which will fully absorb and detach your attention – exercise, meditation, focused play with your child or pet, cooking, etc.
Have or create a good bedtime routine: planning your bedtime routine will help you to switch off and rest easier - sleep is vital for your mental health and wellbeing.
Switch off technology and find a way to relax and provide self-care; take a bath, go for a walk, read a book, write in a reflective journal, pick up a hobby – whatever it is, take some time out for you.
Challenge yourself to learn a new skill: set aside some set time to try something new or learn a new skill – you will feel a real sense of achievement when you realise how much you can achieve when you put your mind to it! It can be as simple as cooking a new recipe – the important thing is it will give you a sense of purpose and keep your mind active.
What we've done to date:
We know everyone has been spending more time in their gardens, so we came together with our Tidy Towns Groups and all in our communities to share what we were growing in our gardens, on our front doorsteps and windowsills, in containers or tubs, or at our front walls! Williamstown led the way by creating a Facebook page where everyone could share snapshots of flowers, vegetables, weeding, people enjoying nature in bloom, even a fox, snipe and the sound of the cuckoo were captured on video! Check it out on Williamstown Galway Virtual Tidy Towns Facebook or County of Galway Virtual Tidy Towns Facebook pages.
Galway Beo is a new digital heritage initiative connecting the people and heritage of County Galway. Heritage is all around us, in old buildings and graveyards, streets and country lanes, rivers and coastlines, hedgerows and gardens, stories and songs. Contributions can still be e-mailed to galwaybeo@gmail.com or check out the wonderful pictures and videos on the Galway Beo Facebook or on the website at https://heritage.galwaycommunityheritage.org/content/category/places/galway-beo-project
Our Heritage Officer ran a Galway-based Heritage Quiz with prizes ranging from Garden Centre Vouchers to books on 'Gardening for Biodiversity' which has simple ideas for inviting nature into your garden. If you didn't win, why not check out the online version of the book and challenge yourself to invite birds, butterflies, bees, wildflowers and native trees into your garden through one of the Top Tips! See https://heritage.galwaycommunityheritage.org/content/topics/county-of-galway-virtual-tidy-towns-project/gardening-for-biodiversity
We put together a pack of Galway-based activities and challenges which were circulated to over 2,000 older people who were cocooning during the lockdown – we got great feedback on these challenges so why not try them out for yourself! Activities and Challenges
We promoted the treasure trove of hobbies and skills which can be accessed through the library service – did you know you can choose from over 400 online courses on topics from crafts, personal development, parenting, pet care, to DIY and can choose from FREE language courses in over 100 languages - join online or contact our library service at 091 509 388 or 091 509 094.
How we plan to build on this:
We will work with the HSE to distribute information and advice on maintaining routines during these difficult times.
We will work with our Library Service and Arts Office to reach out into our communities and involve people in creative arts and crafts.
Other useful links: