Healthy Galway
Other relevant links
Healthy Galway

In This Together www.gov.ie/together
The spread of COVID-19 (Coronavirus) is a new and challenging event. Everyone's lives and daily routines are affected by the measures that have been introduced to disrupt the spread of the virus, and keep us all safe.
It's normal to be worried or to feel stressed during this difficult time, but there are many things we can do to help us mind our mental health and wellbeing.
Here you will find lots of advice and tips on how you can look after your mental wellbeing, stay active and stay connected. In This Together draws together a huge range of activities that you can pursue in your home or your locality, by yourself or with family members or with friends online. There are ideas and activities for people of all ages.
Some people might find this time more worrying than others and may need some extra support on the phone or online.
Whatever you are going through in isolation, let's stay connected and make it through, together.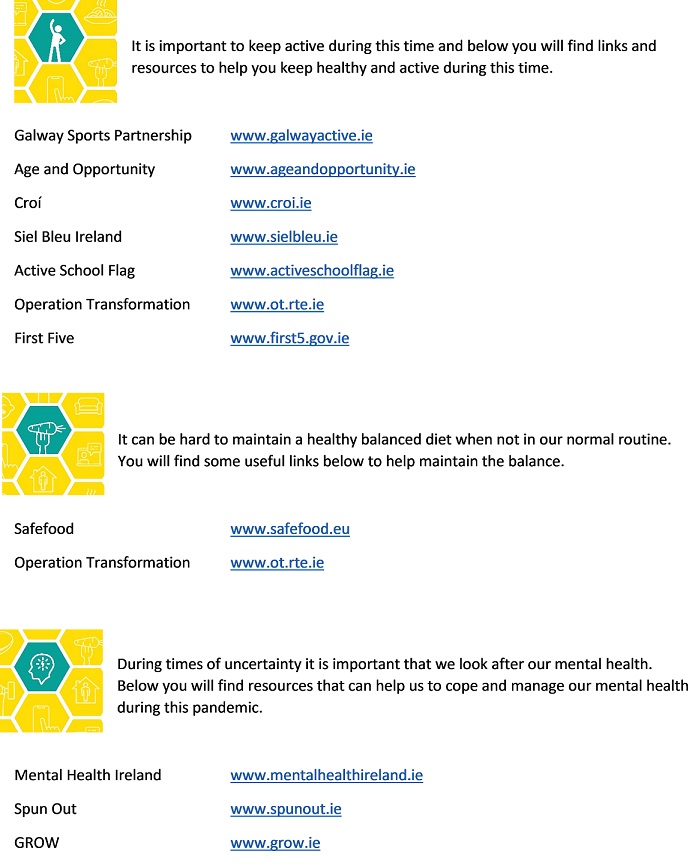 What is Healthy Ireland?
Healthy Ireland is a Government-led initiative which aims to create an Irish society where everyone can enjoy physical and mental health, and where wellbeing is valued and supported at every level of society.
Healthy Ireland has come about because of concerns that the current health status of people living in Ireland – including lifestyle trends and health inequalities – is leading us towards a future that is dangerously unhealthy, and very likely unaffordable. The many risks to the health and wellbeing of people living in Ireland include some which are obvious: issues such as overweight and obesity, mental health, smoking, alcohol and drugs. Healthy Ireland seeks to provide people and communities with accurate information on how to improve their health and wellbeing and seeks to empower and motivate them by making the healthy choice the easier choice.
Healthy Ireland aims to address this through six priority themes:
Theme 1: Physical Activity
Theme 2: Mental Health
Theme 3: Nutrition
Theme 4: Sexual Health
Theme 5: Tobacco and Alcohol
Theme 6: Spaces and Places for Health and Wellbeing
We also now know that there are many factors that influence a person's health and wellbeing, such as their education level, income, housing and work conditions which are determined by social, environmental and economic policies beyond the direct responsibility of the health sector. This understanding calls for a partnership approach in all the actions Healthy Ireland is taking to achieve a healthier Ireland. The health sector alone cannot address these problems – we must collectively change our approach.
About Healthy County Galway
Healthy Galway was established in September 2018. Healthy County Galway is delivered through County Galway Local Community Development Committee (LCDC) through a Sub–Group made up of an inter-agency partnership from a cross section of key stakeholders for example HSE, Galway Sports Partnership, Children and Young Peoples Services Committee, Age Friendly Programme, etc. This Sub-Group has monitored the administration of 3 rounds of funding from the Department of Health's Healthy Ireland Fund to date and implemented the following projects.
Healthy County Galway Projects Round 3 July 2019 – June 2021
Disability Federation Ireland – a programme of training to improve the Independent Living Skills of Adults with Intellectual Disabilities
Galway County Council – Healthy Food Made Easy – a community-led approach to improving knowledge and skills of nutrition and cooking by delivering 6-week courses in community venues
Galway Sports Partnership – completing the Ballinasloe Trails project commenced under Round 1 of funding and implementing a community-led Go For Life programme for older adults in community venues
AIDS WEST – implementing a countywide Sexual Health Education Programme in community venues
Galway County Council – undertaking a pilot Town & Village Toolkit for Milltown, County Galway, to identify places and spaces for health and wellbeing
Mental Health Initiatives such as Taking Control Workshops and Stress Control Workshops accompanied by a communications campaign about the importance of maintaining mental health
Community Mental Health Small Grant Scheme – to provide small-scale grants to Community and Voluntary Groups to implement mental health initiatives in their local areas
For more details on any of these please contact healthandwellbeing@galwaycoco.ie
Round 2 June 2018 – June 2019
Round Two of the Healthy Ireland Fund progressed on the good work achieved in Round One with a further 5 projects delivered on actions such as mental health, lifestyle and nutrition, sexual health and smoke free playgrounds. Health and Wellbeing Days were also held across the County and the Islands. Interaction with over 900 people in the County and increased engagement from those in rural isolation, including active retirement groups and farming communities saw another successful round of the Healthy Galway County Initiative.
Round 1 September 2017-June 2018
The Healthy Ireland Fund, Round 1, saw 11 projects delivered across Galway County. The projects were delivered by several lead partners including Croí Heart and Stroke Foundation, Galway Traveller Movement, Western Traveller and Intercultural Development, Galway Sports Partnership, AIDS West and the European Region of Gastronomy. With engagement of nearly 500 people throughout the County, the first round was a great success and showed great community engagement and participation at events.
Contact Information
Andrew Mc Bride
Healthy County Galway Coordinator
Economic, Rural and Community Development Department
Galway County Council | Prospect Hill | Galway
Phone: 091-509521 Email : amcbride@galwaycoco.ie
Useful Links
National Sexual Health Strategy
Better Outcomes Brighter Futures
Galway Children & Young People's Services Committee (CYPSC)