LGBTI+
Other relevant links
LGBTI+
Galway Pride 2018
During Galway Pride Week 13th - 19th August 2018 Galway County Libraries in association with Galway County Council and Healthy County Galway provided a number of stands across libraries in County Galway. A new range of books was provided for LGBTI+ Youth and also information from Youth Work Ireland Galway & BeLong To on various LGBT events or programmes happening in the county was also made available.
For the first time, the Pride Flag was flown for the duration of Pride outside County Buildings.
LGBTI+ Community Galway.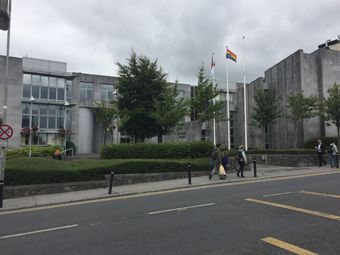 For more information on events taking place in the Galway LGBTI+ Community, visit www.amachlgbt.com.
Teach Solais, the Community Resource Centre is located at 1 Victoria Place, Merchants Road, Galway.
For Further details email info@amachlgbt.com

LGBTI+ Youth
Shout Youth Work Galway have a meeting for LGBTI+ Youth and their Friends which for ages 13-17 meets every Saturday, and for ages18-25 on the first three Tuesday's of every month at Youth Work Ireland 41-43 Prospect Hill, (Just up from Eyre Square). For further details call 087 7738529 or email shout@youthworkgalway.ie .
Galway County Council and Galway Rural Development are currently working with Youth Work Galway to provide LGBTI+ Awareness workshops in secondary schools across County Galway to commence September 2018.
Outside Galway, BeLong Youth Services provide support and information for LGBTI+ Young People. They support Youth Groups around the country where LGBTI+ Youth can be themselves, meet new people or just seek information. For further details call 01 6706223 or visit www.belongto.org .

LGBTI+ National Youth Strategy
Dr Katherine Zappone, TD and Minister for Children and Youth Affairs, launched the LGBTI+ National Youth Strategy 2018-2020 on 29th June 2018.
link to strategy here

The Strategy is a first for Ireland and for the world and is informed by the views of thousands of young people and by those who work with them and on their behalf. The Strategy's Youth Advisory Group, which consists of 14 committed young people who contributed to the development of the Strategy, also created a youth friendly version of the Strategy in the form of a video.
This is a three-year action-oriented Strategy and its Mission is to ensure that all LGBTI+ young people are visible, valued and included. It guarantees a cross-governmental approach to put additional measures in place to further enhance the lives of LGBTI+ young people and address some of the key challenges they may face as part of their day-to-day lives. The Strategy will make a significant contribution towards the Government's broader commitment to continue to strive for the full inclusion of LGBTI+ people in Irish society and to build a more inclusive Ireland.