Backyard Burning and Bonfires
Other relevant links
Backyard Burning and Bonfires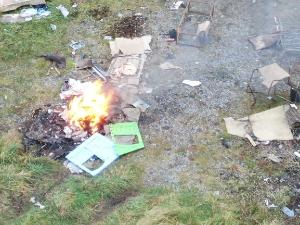 Galway County Council wish to advise householders and commercial outlets that, except in exceptional circumstances, it is illegal to burn any waste in an uncontrolled environment.
This includes activities such as:
Burning waste in a bonfire;
Burning waste in a barrel or exposed pile in the yard, garden or any land;
Burning in a "home incinerator" purchased from a DIY centre;
Burning of waste in an open fire, range or other solid fuel appliance;
Burning of commercial waste;
Burning of waste on building sites.
There is an exemption to allow untreated/uncontaminated wood, trees, trimmings, or similar materials generated by agricultural practices only to be disposed of by burning after sending the required statutory declaration to your Local Authority provided other methods such as shredding, composting, firewood or reuse are considered first.
If you have any queries in relation to burning waste in Co. Galway contact the Environment Section, Galway County Council at 091-509510 or environment@galwaycoco.ie.